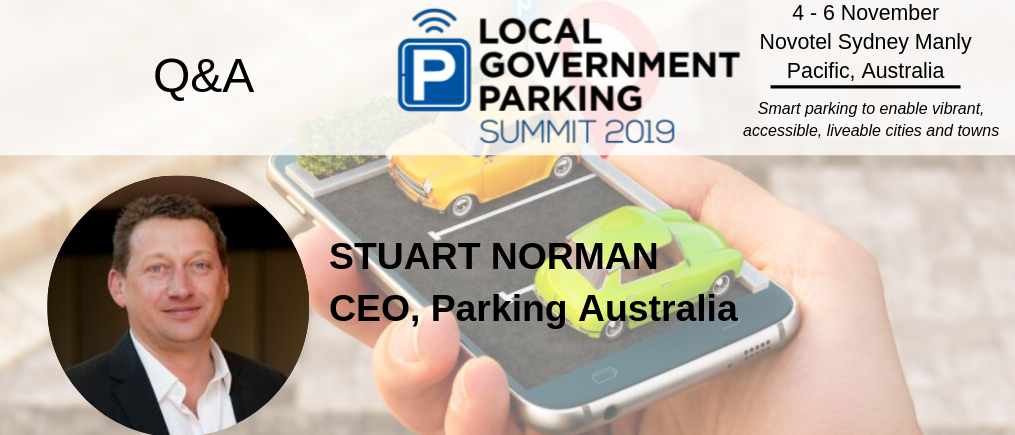 Q:To give context to our readers, could you give us a brief background into Parking Australia?
A: Parking Australia is the national body representing the interests of the parking industry in Australia. Our purpose is to provide leadership, education, technical and other information to all parties who may be associated with our industry. Parking Australia members include local government, airports, shopping centre, private parking operators, supplies and entertainment venues.
Q: Where do you see the parking industry in Australia heading to?
A: The parking industry is more than a $3.5b industry. Going forward Parking Australia will continue to grow, educate and lobby for the parking industry.
Q:What do you think are currently the main barriers in managing parking in cities and towns centres in Australia?
A: There is a significant push by certain groups to want to limit people's choice to drive their car where they want and when they want. Parking Australia believes commuters should have choice to drive, use public transport or ride share services. The major challenges will be to maintain commuter's choice. Parking is an easy target for those who have an anti-car philosophy and Parking Australia will fight this both politically and in the media,
Q: What are the key infrastructure issues when it comes to transforming the parking experience and increasing revenues for cities and towns, and how do you foresee these issues evolving in the coming five to ten years?
A: Parking will change in the future. How it will change is something that all sorts of people have different views about. As congestion grows in our cities, transport infrastructure will need to change and adapt. At the same time the technological advances in the parking industry will change how people locate, pay and use parking facilities. Given that the current average age of the Australian car fleet is approximately 12 years old I don't think some accepts of car parking will change but in other ways it will change immensely as people all have a smart phone and the phone will continue to advance which will see how people commute change as a result.
Q: Are there any examples in other countries of parking technology and innovation that could be deployed in Australia? What could Australia learn from other countries?
A: Australia is pretty advanced when it comes to parking technology. We are a tap and go society unlike the US. Already in places like Adelaide you can pay and extend the period of time you are parking. As previously stated, the more mobile phones evolve the more the parking industry will as well.
Q: What would you list as the biggest challenges in deciding on what technology to invest on and what strategy to adopt?
A: One of the biggest challenges will be how different parking platforms communicate with each other. From the end user side of things, you can have a number of parking apps. The challenge will be how parking providers open these platforms up to 3rd parties.
Q: Are there any issues or risks you think would put the Australian parking industry progresses off track?
A: Government policy is a significant risk for the parking industry. Increases in parking/land taxes, congestion levies, planning approvals and the like pose a real risk for those who have invested in parking facilities. Technological advances always pose a risk but as in many industries I see the parking industry being able to adapt accordingly. At present there is a push from some to ban parking in the CBD's of our major cities. This is a huge risk for those who have invested millions in parking facilities. Banning parking is not the solution as cars will always need to be housed somewhere. In some ways banning cars from certain areas will only shift congestion to other parts of our major cities.
---
Stuart Norman will be presenting "Understanding where the parking industry is now and planning for the future" on Day One of the Local Government Parking Summit. 
Held 6 - 8 November 2019, the Local Government Parking Summit 2019 will explore all the key challenges and issues relating to managing parking in cities and town centres across Australia.
To view the full programme and confirmed speakers, DOWNLOAD THE BROCHURE HERE